A quarter-century ago, when Kathie Sullivan sang on The Lawrence Welk Show, there was talk she might one day become the Champagne Lady.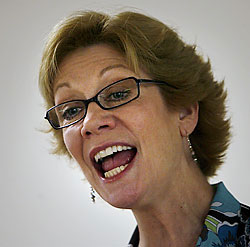 Ms. Sullivan found the idea flattering, but presumptuous. The Champagne Lady was the show's grande dame, the principal dancer.
And Norma Zimmer had held that title for more than 20 years.
"Norma Zimmer was the Champagne Lady – just perfect poise, a good voice, and she looked good dancing with Lawrence Welk," Ms. Sullivan said. "Really, there was no one who could have replaced her."
Instead, the 55-year-old Ms. Sullivan today is the activities director for the Whiterock Court Retirement Residence in Lake Highlands.
Even now, residents attest, it is easier to take the girl out of the bubble machine than the bubble machine out of the girl.
She has organized 15 of the home's residents into a chorus with a distinctly Welkian repertoire – "I'm Looking Over a Four Leaf Clover," "How Much Is That Doggy in the Window? and "My Wild Irish Rose" – sung to a peppy accordion-fueled accompaniment.
"She teaches us to enunciate very clearly and she puts life into each song. That's something you'd learn on The Lawrence Welk Show," said Roberta Weaver, 81, a member of the choral group, called the Whiterockers.
Mrs. Weaver said she was a longtime fan of The Lawrence Welk Show , though she also never aspired to be the Champagne Lady.
"I don't like champagne, either," she added.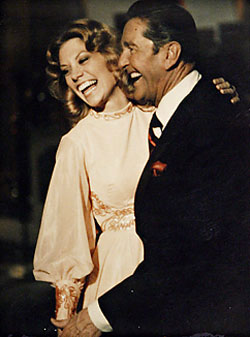 Ms. Sullivan was on the show in its later years, from 1976 to 1982, when it was already in syndication. She came of age, though, in its network heyday of the 1950s and '60s.

"When I was at my grandmother's on Saturday night, everything would stop and we would watch Lawrence Welk," she said. "To my grandmother, Lawrence Welk was a god."

But by the time Ms. Sullivan was old enough for college, she said, she shared her generation's judgment that The Lawrence Welk Show was the embodiment of "square."

One day, a friend called Ms. Sullivan, who was studying music at the University of Wisconsin at Madison, to alert her of a local Champagne Lady contest. First prize was an appearance on The Lawrence Welk Show .

"I entered the contest as a joke," she said.

She sang "Bill" from Showboat and beat out 50 other contestants. After the competition, she was invited to Mr. Welk's dressing room.

"He was putting on his socks, and he said, 'My dear, you have the most beautiful voice I ever heard. Would you care to join our musical family?' " Ms. Sullivan recalled.

She had been training for opera and initially hesitated. But she consented after being encouraged by her parents.

Ms. Sullivan loved the career change, "but my voice teacher never forgave me," she said.

Life on The Lawrence Welk Show was – as the maestro had described it – like being in a family, she said, and members still get together for Christmas and Thanksgiving.

It was a family headed by a stern father.

The women on the show especially were held to a strict dress code, Ms. Sullivan said. Mr. Welk was even stricter about their tastes in music.

"Some of the artists wanted to incorporate rock 'n' roll. Disco was popular during the latter days of the show and some of them wanted to do disco, but he just did not put up with it," she said.

"He knew his audience and he knew what they liked, and if you didn't like it, you knew where the door was."

Another hazard was the bubble machine.

In the beginning, Ms. Sullivan said, it was a real machine hidden behind the bandstand, in which a stream of air blew bubbles through holes in a rotating metal cylinder.

"You had to be careful because the floor around it would get very slippery, and when we gathered around the bandstand for some dance numbers, we had some pretty nasty falls," she said.

Later, the bubbles were electronically superimposed.

After the show closed, Ms. Sullivan recorded four contemporary Christian albums. She married a Dallas accountant and moved to Merriman Park in 1986. She continued to sing, mostly at churches and retirement homes, including Whiterock Court.

Three years ago, she saw a want ad seeking an activities director at the facility.

"I thought, 'What a fun job,' not knowing the other things you have to do, like drive the bus," she said.

Besides organizing the choral group, Ms. Sullivan also plays a taped episode of The Lawrence Welk Show each Friday afternoon.

All of the chorus members remember the show, and most were fans. But not all.

"I just didn't like it very much," recalled Elizabeth McNeil, 86. "I wouldn't tell anybody not to watch it, but it wasn't my kind of music. I liked classical."

But fellow chorister Jerry Cummings, 66, still has fond memories.

"I liked the guy who played the accordion, Myron Floren, and the guy who danced, Bobby," he said.

He couldn't possibly choose a favorite Lennon sister.

"I loved them all," he said.

Ms. Sullivan may be finding a new generation of fans.

"My younger daughter never heard of it," Ms. Sullivan said of the show, "but then one day her friends at school were all excited. They said, 'We saw your mother on YouTube!' "

Ms. Sullivan, by contrast, initially had trouble maneuvering YouTube.

"I finally found it, and there it was – a clip of me sitting on a park bench singing 'Second Hand Rose.' "

Anyone can be out of tune with the contemporary music scene, but to be considered truly clueless, you have to be down with all things Welk. Take the following test. One point for each right answer:

1. At what hour, and on what network, did The Lawrence Welk Show run before it went into syndication in 1971?

2. There were two Champagne Ladies. Name one.

3. Which Champagne Lady was fired and why?

4. Lawrence Welk played what instrument?

5. Comedian Jonathan Winters, as the grandmotherly Maude Frickert, ran for president in 1968 promising, if elected, to put Mr. Welk's picture on the $1 bill. Why?

6. The Lawrence Welk birthplace is the most popular tourist attraction in what Midwestern town?

7. Name one of the Lennon Sisters.

8. Despite popularizing polka music, Mr. Welk was not inducted into the International Polka Music Hall of Fame until after his death. True or false?

9. Only one Lawrence Welk single ever reached No. 1 on the U.S. pop charts. What was it?

10. Mr. Welk's pronounced accent was the result of not having spoken English until he was 21. What was his first language?

Answers:

1. 8 p.m. (Eastern time) Saturdays on ABC.

2. Alice Lon, Norma Zimmer.

3. Ms. Lon, for showing too much knee.

4. The accordion.

5. "To square up the money."

6. Strasburg, N.D.

7. Dianne, Peggy, Kathy or Janet.

8. True. In 1994, two years after his death.

9. "Calcutta," in 1961.

10. German.

Scores:

0-3. The name Myron Floren means nothing to you, does it?

4-7. You can pass off your Welk knowledge as retro and still get into an Uptown bar. But don't linger.

8-10. You spent way too many Saturday nights with your grandparents.