Lennon Sisters still living life in the spotlight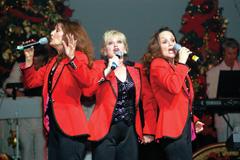 Kathy, from left, Janet and Mimi Lennon will celebrate 54 years in show business on Christmas Eve. They are performing a Christmas show with Tony Orlando at the Welk Theatre.
Joshua Clark | Branson Tri-Lakes News
By Joshua Clark
Staff Writer
Originally published Dec. 5, 2009
For one family in Branson, Christmas Eve marks the anniversary of an extra-special event.
It was 54 years ago when the Lennon Sisters made their debut on the "Lawrence Welk" television show.
"In some ways it seems like 54 years, and in others it doesn't," Janet Lennon began, while Kathy Lennon finished her sister's thought. "We hear '54 years in show business' and we look for people like George Burns and Bob Hope, you know, people in their 80s and 90s. Not us."
The Lennon Sisters were introduced to the nation that evening and they have been performing in front of large crowds ever since.
"It is almost frightening to think it has been that long," Kathy Lennon said. "We talk to people who are retired after working for 25 and 30 years and then we're like, 'Wow, we have been at this for a long time.'"
Since the retirement of two of the older sisters, Dee Dee and Peggy, the Lennon Sisters have gone from a quartet to a trio. Still, they find that regardless of where they go, they get treated like family.
"We grew up with a generation. When we sign autographs after the show, a lot of younger people are bringing their children to see the show, and they grew up with us," Kathy Lennon said, "because of their parents and grandparents watching us on PBS, so it really is amazing."
In a world where so many people seek out a career in entertainment, this was always just something these sisters from Venice, Calif., kept doing year after year.
"We happened upon this when we were children, went on TV and were on 'Lawrence Welk' every week for 13 years, and after that it just kept happening," Janet Lennon said. "It wasn't something we set out to do, and it isn't something we'd set out to do today as a career."
When the Welk Champagne Theatre opened in 1994 in Branson, the Lennon Sisters joined an all-star cast from the "Lawrence Welk" television show for a run in Branson. They never thought they would still be in town 16 years later.
"We really thought we were coming to Branson for a year or so," Kathy Lennon said. "We thought we had done everything, and we wrote our book, 'Same Song, Separate Voices,' and though it was winding down, but we just keep getting asked to come back."
The youngest of the Lennon sisters, Mimi, was only four months old when her older siblings made their debut in 1955. She was always the "stand-in" sister, taking the stage throughout the years so the other sisters could have vacations and babies.
"I always loved working with my sisters, and they have been doing this forever," Mimi Lennon said. "It was always my choice to perform with them. I love doing this."
Mimi has been performing with the group full time since her older sisters Peggy and Dee Dee retired 11 years ago.
"When I was little I would cry and not want to do it, I was 'Screaming Mimi' for a while," she said. "But as I got older, I always enjoyed performing with them."
Performing at a young age seems to be a tradition in the Lennon family, and this show is no exception. The sisters are joined on stage by three of Janet's granddaughters, Lia, 10, Ana, 8 and Jenna, 5. They perform several songs from the new Christmas album, "Best Pals Celebrate Christmas."
"I wouldn't say that we would discourage them from getting into the business," Janet Lennon said. "But we would encourage them to try a whole lot of other things first. But it is a tough place to be, this business. The best advice I have is for them to not make the business their whole life. The singing Lennon Sisters on stage do not define us, or who we are, it is what we do. This is a job. Do the best you can do, but always put your family first."
In putting family first, these sisters spend a great deal of time together, and have found it very easy to get along with each other.
"We all have opinions and discuss things. We don't agree on things all the time because we are three distinctly different people," Kathy Lennon said. "When it comes to the show, we kind of know what works, so there really isn't much arguing."
Janet agrees with her younger sister.
"In order to perform here with our sisters and seeing them more than we do our spouses, we almost look at it like a marriage," Janet Lennon said. "There is a lot of compromise, and the minority rules. If one person feels that strongly about something, the other two give in."
The sisters also take pride in the fact that they still have so much of their natural beauty.
"We are blessed as far as that goes. It is in the genes," Kathy Lennon said. "Our grandmother lived to be 94 and she had black hair, her own teeth and was just gorgeous. We decided a long time ago — no facelifts, no surgery, we were just going to be who we are."
With 54 years in show business under their belts and countless other side projects in the works, it doesn't seem these ladies are going to slow down anytime soon.
"We have been here for 16 years, and we are coming back next year with Tony (Orlando) again," Kathy Lennon said. "It works here. This community, we just love it so much. Branson is such a great place."
"We moved here so we wouldn't have to go out on the road, and when we did work, we could go home and sleep in our own beds after the show," Janet Lennon said. "So when we get to play here, it is so very nice."
"This is our home," Kathy Lennon added. "We came here from the ocean in California, which we love so much, to Branson. We were welcomed with such open arms that we love everything from Dicks 5 & 10 to the Chateau (on the Lake). There aren't a lot of places like this left in the world."
The final performance of "Tony Orlando and The Lennon Sisters Celebrate Christmas" is Saturday night at 8 p.m. at the Welk Theatre. For more information, visit lennonsisters.com or welkresortbranson.Com.